June 24th, 2013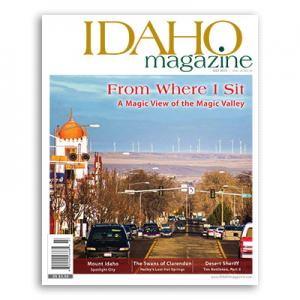 At 3:38 pm PST I was stuck in traffic on the 101 Los Angeles, California. Bored I called The Idaho Magazine and spoke with the editor/publishers and she has a surprise for me.

You people are witnessing a miracle before your very eyes. This is the cover of the July 2013 Edition of Idaho Magazine and the photo of downtown Bulh, Idaho is one of four photos done by me to be published in a magazine. I only found out last week that one of my pieces was to be on the cover. As I sit here in southern California crying my eyes out and I have not stopped crying since 3:38pm. I think of where I came from to this point and how you people put up with my whining and crying for almost 8 years. I think of Ryan Blick my boss, grandson of Gary Blick and how he and his family and company allowed me to drive a truck and take photos.

I think of Danny Martin sports writer for the Fairbanks Daily Newsminer and how he would just tell me day in and day out, it's going to happen and because of the timeframe, not too many photographers get the photos published in a magazine and also make the cover. And last I will not mention her name.. but when I started this she told me, "Michael there are great ideas, and there is LIP SERVICE." Guess what, this ain't lip service this is my work shown to the public from a guy who 8 years ago was broke, lost his family, got fired from jobs, lost friends, almost died in 2009 from a bleeding ulcer but felt it not necessary to drink alcohol through the ordeal. I never gave up... wanted to but I did not QUIT.

If you are good... at what you do.. TRUST IT.

I wish my kids could see this, I wish my mother could see this. And all of this was done by GOD. I am grateful. Thank you Christine Garrison.